Hi there! My name is Edmundo Miranda, 37 years old (officially 47, but my parents were so keen on having me that they signed me up 10 years early. True story!) and I'm going to share a little about my day as a UX/UI lead designer at LOAD!
08:15
Actually, I should wake up at 8:00, but since I live within a 10-minute walk from the office, I sometimes allow myself to stay under the covers a little longer (cold weather is tough). By 08:20 I'm still in bed trying to properly open my eyes. That's when I turn on my smartphone and start scrolling through Instagram, that never-ending "magazine" where we see a bit of everything: News, surfing, design, technology, and, of course, funny dog reports and nonsense content to set up the good mood. I know it's maybe not the healthiest way to wake up, but it is what it is.
Then I wash my face, brush my teeth… the usual stuff. I use this time to check and recap my daily tasks in Google Calendar and on our weekly planning. Also, I check if there is anything new in our Slack channel. That's a lot of smartphone usage in the early morning, yeah, I need to rethink that. 😅
08:55 – a short walk to LOAD or… to my living room
It depends on whether I'll be working from home, in the office, or sometimes a mix of both. The hybrid work model is ideal. We get the best out of on-site work where things happen more organically, such as being with the team, sharing ideas, quickly fixing any issue, and so on. We also get the best out of remote work—working from the comfort of our homes, the flexibility to work from a cowork or even another city, when and if necessary. While there are companies that have built a 100% remote culture, for me, the hybrid approach is still, by far, the best. So let me describe a day when I go into the office. As I arrive outside, the first thing I do is say good morning in meow language to the eight or so fluffy cats that live around my building.
09:15
The days at LOAD start with our daily stand-up meeting, where we share with the team our goals and doubts for the day. Then some go grab a coffee in the coffee store downstairs. I prefer to drink my coffee from the espresso machine in the office, but sometimes I go down to hang out with the guys.
09:45 – till the very end of the day
Work weeks vary a bit depending on the nature of the projects in progress. Here's an overview of some major tasks I usually deal with on a daily basis.
Regular tasks
Design review

: I regularly check my inbox and Slack in case I need to provide an important answer to clients or project team members. As a lead UX /UI designer, I deal directly with our clients while the project is in the design phase;

Design review

: I check with our junior designer how things are going, considering project goals, guidelines, and deadlines. We take this time to clarify doubts and suggest improvements, always with an explanation of why. This is a way to share knowledge and encourage designer autonomy. This support between designers is a great opportunity to learn and also to recap old visual composition fundamentals that we already use automatically and where sometimes it's not easy to explain why, like hierarchies or usability heuristics.

Design support for developers:

the cooperation between designers and developers is fundamental and that's why I believe that a good product team should be smooth, well-connected, united, and work in the same direction to deliver the best result for the customer and for LOAD. At LOAD, thanks to the gods and to the whole team, we have that! As designers, we always have to make the best possible handover to the development team: Explain the purpose of the product, the main features, the general look and different states, animations, placeholders for blank pages, feedback, navigation, color styles, typographic styles and clarify their usage. Consistency is the key here. No matter how hard we try, it's possible we miss something. So the development team is fundamental here for this refinement, whether it's to define something that was forgotten, clarify a rule, correct consistency deficiencies, or even discuss alternative solutions for certain elements. Over the years, I have learned a lot from these ideas exchanges.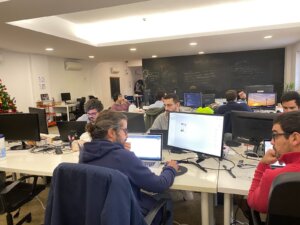 DPR Tasks
DPR is our Digital Product Research phase. For those more familiar with the Design Thinking process, this is the phase where we do the Empathize, Define, and Ideate phases.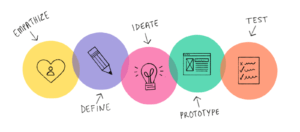 Research is an important part of the UX/UI process, and as the lead UX/UI designer, I'm usually responsible for leading that task. This can be conducting interviews with stakeholders, or carrying out desk research that explores different content in a short period of time to better understand the client's goals and empathize with the user's needs. We also often conduct two types of workshops, one to align the project vision between the client and the project team, and a second to test and brainstorm a product concept for its improvement.
Starting a project from scratch is always a mix of excitement and panic, but over time we learn to trust the process. It's like driving on a road surrounded by fog: you can't see anything in front of you, but you have to trust that every meter of vision will take you to the desired destination. For us, each stage of the research process is a meter of vision, and from meter to meter, we see more and more road. A nice metaphor I was eager to use! The only thing I couldn't include is the fact that in a project, we can't just drive at 20km/h. 😆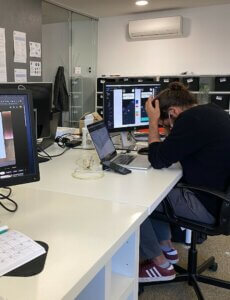 Our DPR starts with the kickoff of the project. It goes through a series of exploratory tasks, including the technological part (this is where my development buddies come in), and ends with a validated product concept and a defined roadmap for product design and development.
UX design has shown that good design begins before visual design, with a human-centered design research approach that is a highly co-creative process. At certain times, we are not the creative being, but the catalyst for the creativity of the stakeholders involved.
DPD Tasks:
Projects that involve design at LOAD may or may not go through the DPR phase. One way or another, we move from a concept to the next phase, the DPD – Digital Product Development. This is where the most well-known design phases occur before development: Task Flows, Wireframes, Look&Feel, and Prototype/Final UI. Each of these steps is reviewed and validated by the customer before moving on to the next stage. With this layering process, failures or opportunities for improvement can be caught in the early stages, and by the time we get to the development phase, we already have a much more assertive product design. This is the famous "fail fast, fail cheap". We can even, depending on the project, do small intermediate tests at these stages. As a lead designer, the biggest concern in the DPD phase is applying good usability practices and patterns, consistency, pixel-perfect alignments, attractive aesthetics, and a smooth handoff to the development team, so they can work their magic!
Marketing support:
Corporate communications are also part of our daily work, although to a lesser extent. We review internal document templates, website updates, social media content, and other marketing team requirements. As designers, the main responsibility here is to maintain consistency in our branding.
Presales support:
I also have other administrative tasks, such as project estimates, project approach (defining DPR steps to better address a particular challenge), and pre-workshops to help our business developer spread his charm and bring good projects to LOAD.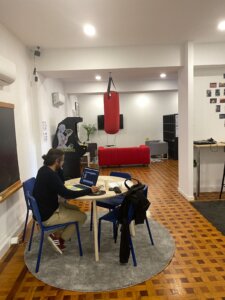 Management tasks:
As lead designer, my main management task is to regularly review and improve our design process. I set the weekly schedule for the design team for the following week every Friday and submit it to our project managers. The biggest "headache" for me is checking the project status: how many hours have we spent, how many planned tasks have been completed, and how many hours we have left.
Team:
Regardless of the challenges, the butterflies in the stomach, the little moments of panic, the good days and the bad days, in the end, what matters is the team we have around us. We have a true squad at LOAD, that makes our daily lives easier by sharing knowledge as part of our daily routines and… I could say that if knowledge is our gearbox, then team spirit is our constant lubricant that keeps that gearbox running smoothly. Since I like making toasts, I would like to close it with this one: A toast to LOAD. 🥂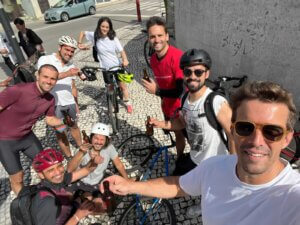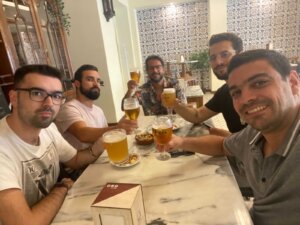 Article Powered by ChatGPT 🙂 – just a joke… for now.