Hello, you. It's a new day in my life as IT Talent Acquisition at LOAD. Some days I work from home, other days from our office in the center of Aveiro, Portugal. It is difficult to describe a typical day in my life as a Talent Acquisition because no two days are the same, but I will try to show you a small part of it.
When I work from home, I can enjoy a few more minutes of laziness in bed than usual, but usually, my day starts very early. 😴
7:15 AM
I always like to start my day by snuggling with my little cat. Then I drink a big cup of coffee and I'm ready for a workout that helps me wake up from an extremely good night's rest.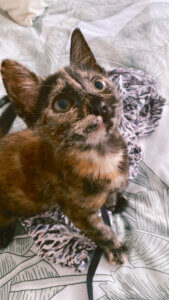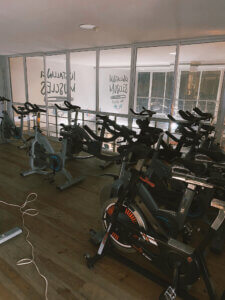 9:10 AM
The first thing I do is open my calendar to see how my day will go, and there I see this:
– A daily morning meeting with the team where we discuss what is coming up in our days/weeks. We use this time to go over what has happened in the last few days and see if anyone needs our help.
– Right after that, I have a weekly meeting with my supervisor where we plan things out, update each other, report back, and set the tone for the week;
– And then some initial interviews with candidates who might be a fit for LOAD or our client's team.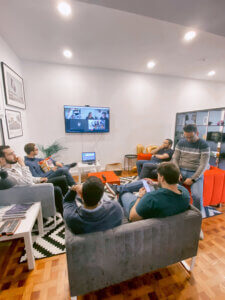 (Meanwhile, the guys from the office during our daily meeting.)
9:30 AM
The first thing I notice is all the unread emails and messages I've on Linkedin 👀. Let's see what happened overnight. Oh! These are the candidates who agreed to speak with me to show them a little more about LOAD, our open positions, and our culture. The best part of my day is when I receive positive feedback! It doesn't matter if it comes from the candidate, the client, or another colleague on my team. I'm sure other recruiters understand exactly what I'm talking about!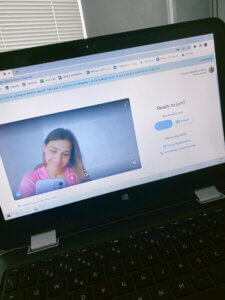 After our morning meeting, while enjoying my hot cup of coffee, I start answering all the messages to set up the first meeting with them. Then I continue to search for the right talent for the different positions we have. I usually use Linkedin Recruiter to get in touch with potential candidates, but I also use Indeed, IT Jobs, and other Portuguese platforms and websites to find the perfect candidates for our open positions. Once a new position is identified, I create job ads and post them on different platforms and support the onboarding process.
Our work consists of much more than just sending out resumes to clients or conducting interviews. I work with my manager, Lara Fonseca, to recruit, assess, hire and welcome talent. We both have a common goal: to find good candidates as quickly as possible. So we usually work together to develop the best hiring strategy, review applications, and also promote the company's brand and culture.
12:00 PM
We are approaching the lunch break, but I still have time to make update calls with some candidates, to approach them and get them excited about the new challenge! As we know, recruiters are the first point of contact in the relationship that is built between the candidate and the company, and at LOAD we love to maintain that closeness. We feel it is very important to stay in touch with all the people we have been in contact with. That's what makes my job so great: the ability to connect with people and provide them with interesting new opportunities.
1:00 PM
By lunchtime, I'm back in the office, and it's time to grab a coffee to recharge the batteries for the work ahead in the afternoon. Kika (our office doggie ) always comes along to play a bit in the garden and stretch her lazy legs.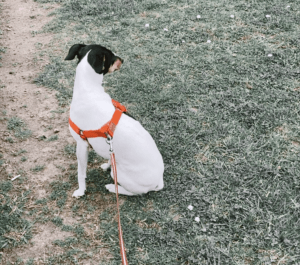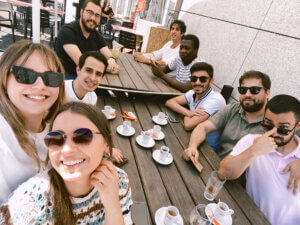 2:00 PM
Back to work, full of energy! 😁💪🏻
At LOAD, every day is different. It's not a monotonous, boring, nine-to-five day where I sit at my desk and do not get up until it's time to go home. Priorities and deadlines are constantly changing, and we have to keep up with them. Most of the time we have to hold ourselves accountable and know how to handle frustration to stay positive and do a good job. There are days when we search tirelessly for candidates through social media, contacts, and databases. There's always a small chance that the candidate will not be a perfect fit for our client (or vice versa), or that the candidate will change his or her mind about the opportunity being offered, and so on…
Building a healthy relationship is hard work, but let us focus on the good things first! The best part of my job is definitely when I talk to a candidate and they accept the job! After the first interview, we always check in with the candidate and give them feedback, even if it's unfortunate that a second interview does not happen. At IT we know that selecting candidates is a lengthy process, but we always try our best to be as quick as possible.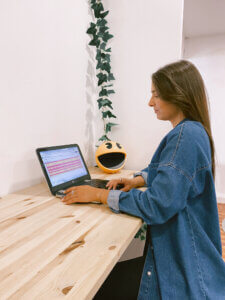 5:00 PM
Time for a snack (or two), a bit of table tennis, and sometimes puzzle bobble, which I (unfortunately) always lose.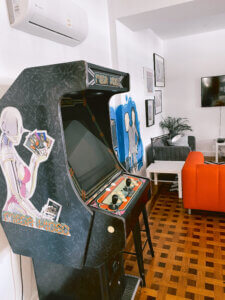 5:10 PM
Time for an initial interview with an applicant for an internal position. During this type of interview, we typically ask general questions about the applicant's work history and experience. The second and final phase of our internal hiring process takes place with our CTO, Davide Ricardo, where he delves deeper into the technical side of their experience and passion for IT and gives them a little challenge to put their technical skills into practice.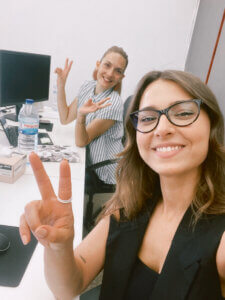 6:00 PM
All good things come to an end. 🥳 What a day!
Time for yoga 🧘🏼‍♀️, but when it's Thursday we, LOAD's girls, go have a glass of wine and have our well-deserved girl time together 🍷.
See you tomorrow! 👋🏼