You are the reflection of all the things you do and support. Do the right thing, support the right people, and ideas, and you'll see you'll be on a good path to building a great, solid company. But it's not that simple, right?
At Load, from where we stand, we realize there is a lot of space where to grow. Luckily for us, we know now what are the things we need to focus on, in order to reach our goals successfully.
Most of these things take time and sometimes even years to learn, to implement, and to see results.
Once you have a business, setting yourself apart from the competition becomes one of your most important priorities. Overall, the market is oversaturated with pretty much everything and it is becoming harder by the day to be original and remarkable.
In a world full of outstanding ideas and great professionals, being good is not enough anymore. It is urgent to be better.
Great companies have great people.
See how we don't mention here "a great leader"? The leader is the central piece of the engine, but if the remaining parts aren't doing their work, the engine fails. One person alone doesn't make the company, rather sets the example. Do what you'd like others to do. Boss or otherwise.
Hiring the right people, with the right skills, personality, lifestyle, and values is one of the most essential elements of stable growth. A resume is just a little part of what that person truly represents. At the end of the day, we don't hire the CV, we hire the individual that will suit our values the best. At Load, people are our most precious asset.
That brings us to the next point:
Bring your people together.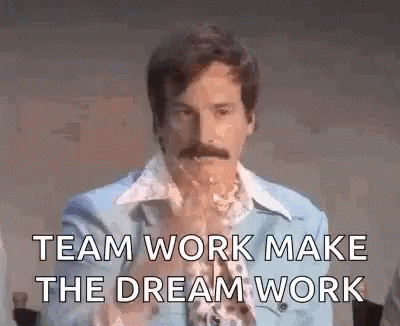 As an example, at Load, we all work together in an open space, with no exception. Our designers, programmers, marketing & administration departments are brought together in one single space. In the same way, there are no walls between our desks, there are no walls between our communication. It's a great working concept that allows people to share thoughts, ask questions, and get to know each other.
We spend the biggest amount of our time at work, so we would like our people to feel comfortable with each other.
Apart from being comfortable together, we want our people to feel engaged in company affairs. That is why our management team is open with every employee about the state of the company, future plans, and just regular daily situations.
Due to COVID, of course, it is impossible to keep everyone together as we used to because half the team is remote and the other half is in the office. We have several meeting rooms and other spaces to facilitate social distancing and privacy when needed.
Great companies put the customer first.
Having a proactive attitude makes a huge difference between a good company and a truly great one. Staying constantly in touch with the clients and knowing their pains, needs and feedback will help you grow alongside solid partners. Respect and trust do not come easy. In most cases, it takes months to build and another few months to truly solidify. Honestly, sometimes, even years.
At the end of the day, in any business, people should really worry about their customer's needs. For instance, offering them workshops so they're able to have a bigger picture of the challenges they have to face, finding the solutions they didn't know they needed, or just giving a regular call to check the state of affairs. All those little gestures of attention and concern are going to be highly valued by those who truly believed in you, gave you a chance, and supported your business in the first place.
At Load, we find it super important to grow with the feedback given to us. Knowing how to listen (customer or not) is a huge quality any business should have and constantly improve. Feedback comes from all directions. Listen carefully. You will be surprised by who much valuable information you will find where you less expect it.
Every single person should know their purpose inside the company.
Purpose. Let that word sink in. For people, knowing their purpose in life and at work is crucial.
In great companies, employees know exactly what they are there for. They understand their roles, tasks, influence, and, as a result, their motivation increases, and their results are better.
As a company, you have a duty towards your employees to help them navigate their own capacities and explore their limits. By taking them out of their comfort zone and giving them space to learn, to make mistakes, and to be creative, you increase your employee's chances of finding their true purpose. Sometimes, it means you'll have to let them go. Other times, it means they'll stay for a long ride. Realizing that you, as an organization, play such a huge impact on people's lives is rewarding.
Help them grow, and they will take you to places you never imagined.
What do we do at LOAD to make it even better?
Our hierarchy is flat.
No one is better or more important than anyone else in the team. At Load, we all know our purpose and we work towards the same goal. At the end of the day, all we want is to do our best job and to feel proud of ourselves, our peers, and what we have delivered.
Here, titles and statuses are the least important feature a person can focus on. Overall, having a flat hierarchy improves the quality of our working environment: the knowledge flows easier, there is space for creativity and sharing ideas.
Honesty.
It probably sounds too cocky but the truth is: to create a relationship based on trust, you have to know how to say the things you need to say, at the right time, to the right person, in the right way. It is important to convey an opinion or feedback without being disrespectful or rude. At the end of the day, being frontal when something is not right or should be improved has a huge impact on the quality of the product/service delivered. Is it a challenge? Of course. Do we make mistakes? Sure, we're only human. Do we try to learn and improve? Always.
No space for groups.
We have zero-tolerance for groups inside the company.
With time, we were able to create an environment where there's no need or space for divisions within the team and that helps us to keep a healthy relationship based on solid communication. Obviously, this is a continuous learning process, where mistakes happen, and that is how we learn.
Finding time to be together.
Everyone has different timings & responsibilities, but finding the time to laugh, share experiences, and just be around together is also one of our priorities as team players. Trust takes time to build and not every individual finds it easy to connect to other people (and that is also okay). Nevertheless, we want everyone to feel appreciated. That's the whole reason why we organize internal events such as tech beer, team picnics, family days, among others. Currently, it might be a bit more challenging but nevertheless, we make a huge effort to adjust.
We learn & teach each other.
That's right. As we would say in Portuguese "parar é morrer" — stopping is dying. At Load, we motivate our employees to learn and give them the freedom to become more educated and better professionals. A huge part of learning is sharing your knowledge with others. For that reason, we have our regular internal workshops.
For years, our truest motto has been the same: "If you work hard and stay humble, amazing things will happen". In challenging situations, it helped us to move forward as a team and it still does to this point. We are very thankful for sharing our project and values with people who believe in us and give us so much of their talent, time, commitment, and appreciation.
This is exactly what makes a great company.